Did you know that there is snow on the equator? Where you might ask, on top of East Africa's highest mountains. Join us on a trip up Mt Kenya to experience one of the most unique mountains in the world.
We offer two different routes up Mount Kenya and are trips are either 5 or 6 days in length. Yes, you can climb the mountain quicker, but on our trips you will take it easy with plenty of time for photos and detours to see some of the mountains most incredible views.
Three reasons why Mt. Kenya is often regarded as the most beautiful mountain in Africa:
The afro-alpine fauna found above 3200 is unlike any vegetation seen worldwide. With a number of endemic species.
Mt Kenya boasts an incredible collection of stunning lakes
The jagged peaks create a unique backdrop with technical rock and ice climbs.
Spectacular views down to the lowlands of Kenya, with sightings of Kilamanjaro on clear days
We offer trips on either the Sirimon or Chogoria route, which approach from either the North or East respectively. You can climb or descend via the same route, or for a mountain experience, we can offer the up and over, where you climb up one side, up to point Lenana and down a different route. Below is a table of your options:
| | | | | | | | | |
| --- | --- | --- | --- | --- | --- | --- | --- | --- |
| UP | DOWN | DAYS | DAY1 | DAY2 | DAY3 | DAY4 | DAY5 | DAY6 |
| Sirimon | Sirimon | 5 | Sirimon Gate - Judmeier | Judmeier -Liki North | Liki North - Shiptons | Shiptons - Summit - Liki North | Liki North - Sirimon Gate | |
| Sirimon | Chogoria | 5 | Sirimon Gate - Judmeier | Judmeier -Liki North | Liki North - Shiptons | Shiptons - Summit - Lake Ellis | Lake Ellis - Chogoria Gate | |
| Chogoria | Chogoria | 6 | Chogoria KFS gate - Chogoria Main Gate | Main Gate - Lake Ellis | Lake Ellis - Lake Michaelson | Lake Michaelson - Mintos | Mintos - Summit - Lake Ellis | Lake Ellis - Chogoria Gate |
| Chogoria | Sirimon | 6 | Chogoria KFS gate - Chogoria Main Gate | Main Gate - Lake Ellis | Lake Ellis - Lake Michaelson | Lake Ellis - Lake Michaelson | Mintos - Summit - Liki North | Liki North - Sirimon Gate |
For someone who doesn't know Mt Kenya this can look awfully confusing, so below is a little summary of our routes:
Example Itinerary, Chogoria Route
1Day One
You will be met by your guides in Nairobi/ Nanyuki and be transferred to the park gate, where we meet the porters and start the trek up the mountain.
We enter the forest at 1600m and continue up to the 1st campsite at the Chogoria gate. Your evening meal is served and you can relax around a campfire before retiring to the sounds of the Mt. Kenya rainforest. This is a driving day with a two hour acclimatization walk in the afternoon.
2Day Two
Breakfast is served at 0730, after which bags are packed and you leave the previous night's camp, hiking up to Lake Ellis at an altitude of 3200m. You will walk through moorland and Tussock grass. The Heather and Proteas are quite beautiful, particularly when some of the other flowers are in bloom, such as the Gladiolus, Kniphofia, and Senecio. The remainder of the afternoon is spent relaxing in camp before dinner and another early night.
3Day Three
The walk on Day 3 is well off the beaten track. You will walk around the lake, cross over the valley, and follow a ridge up the mountain. Enjoy breathtaking views over the Gorges Valley and back towards Itinguni and the Northern Moorlands. Lunch is served at a small stream crossing before continuing down to Lake Michaelson, one of the most spectacular campsites on the whole mountain.
4Day Four
A hard hike out from the colosseum and up to Minto's Hut at 4200m and our night's camp. The afternoon is once again spent relaxing at camp, with a 10-minute walk to the "Temple" being well worth the effort. This is a 500ft vertical cliff that gets its name from the position visitors often adopt when peering over the edge. They look as if they are praying! An early night is recommended as you are attempting the summit the next day.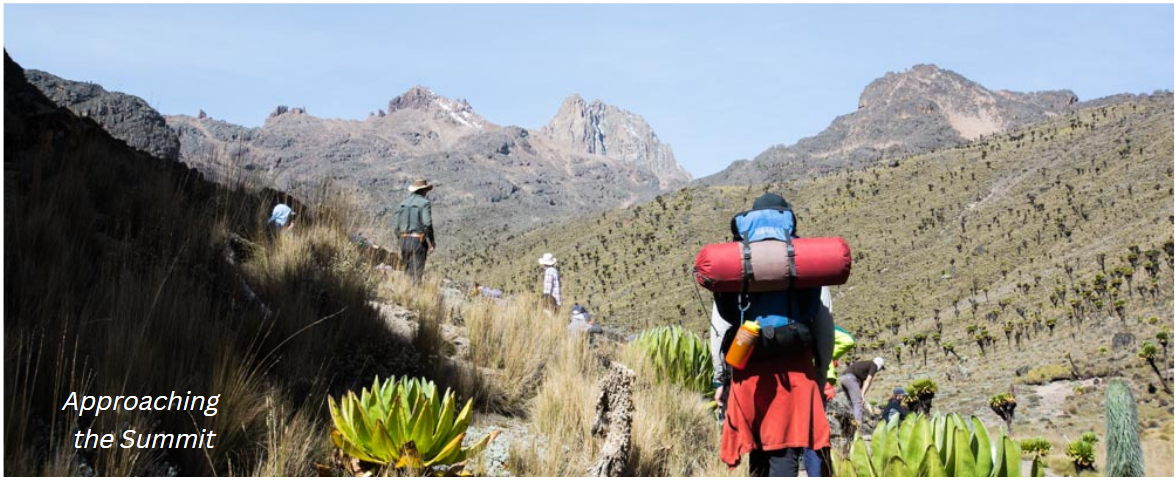 5Day Five
You are woken at 0215am in the morning (if you actually sleep at all) with a cup of tea or coffee. The majority of the walk is in the dark so you are at least well on the way to Pt Lenana, via Simba Col by sunrise. You finish the final grunt to the top hopefully before the clouds have started to move in so that we can capture celebratory photos of you victorious on the summit. We depart the peak via the same route as far as Simba Col. Here we turn left and head on down a steep scree slope to Shiptons Camp arriving by 10 am. After a quick breakfast and short rest, we begin the final 5-hour walk down the mountain to Judmier camp. We will have an early dinner and then go to bed.
PLEASE NOTE THAT FOR MANY OF OUR CLIENTS THIS REMAINS THE SINGLE
HARDEST DAY OF THEIR LIVES. YOU HAVE BEEN WARNED!
6Day Six
After a later start and a good breakfast, we leave camp and walk the final 10km down a dirt track to the park gate. Here you are met by your transport and say goodbye to your porters and guide (if they have done a good job please tip them!). The vehicle is loaded and you head back to Nairobi stopping at our riverside camp for lunch on the way back.

For those of you who don't want to, or think they won't summit, don't worry, we still have a trip for you to enjoy the beauty of Mt Kenya. We do a 5-day hike around the Chogoria route exploring the different lakes, fauna and views that Mt Kenya offers. This trip is suitable for all ages and abilities and we always enjoy exploring the mountain with summiting not being the aim.
The above itinerary gives a good overview of what all our hiking trips up Mt Kenya will be like. Of course, you can customize any of these trips so please reach out to us and we will create the perfect route, length and style of trip for you.
Included
Return Transport,
Nairobi - Mt Kenya
Professional guide
Porters
Cook
Tents
Food and Drink
Park Fees
Not Included
Tips
Medical Insurance
Personal Items on Kit List
Make it a combo
Additional experiences:
Rafting trip and night at Savage Wilderness river camp
Heli Flight off the Summit
Summit Battion
Our Premium trips are just that, premium, you will always be on your own with your private guides, chef and porters. We provided a smart camp with luxuries you will not expect to find when climbing a mountain. If you are coming out do a once in a life time trip up Mt Kenya, we highly recommend our premium trip.
Questions
1How many days does it take to climb Mt Kenya?
4,5 or 6 depending on your fitness level and time available, we recommend a minimum of a 4-day trip this means you have time to climatize at those high altitudes and have more chance of reaching the summit.
2Is Mount Kenya hard to climb?
Mount Kenya won't be easy, you will be camping each night, and walking hard during the day. But we can tell you the longer you take, the more chance you have of reaching the summit. 
3What kit do I need for Mt Kenya?
Download our kit list here. We also have a video on our Instagram: https://www.instagram.com/reel/Ch9zfKLo3zY/ It is important to pack the right equipment for this trip. The mountain goes below freezing and the weather is extremely changeable at short notice. 
Absolute Nature | Absolute Adventure